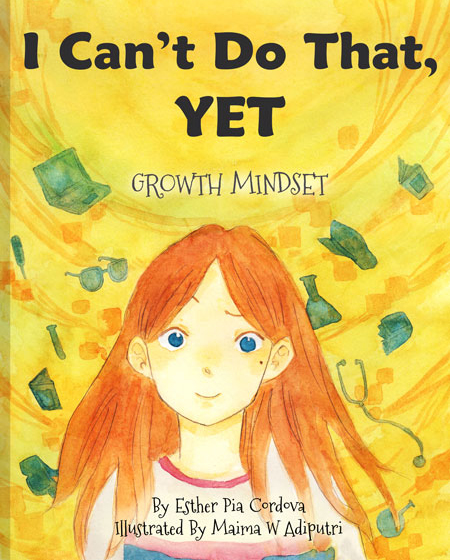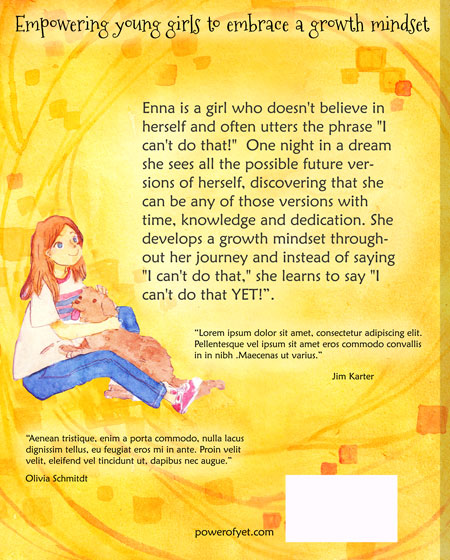 Now available:
I Can't Do That, YET
Promoting growth mindset in girls and boys
Enna is a girl who doesn't believe in herself. One night in a dream she sees all the possible future versions of herself, discovering that she can be any of those versions with time, knowledge and dedication. She develops a growth mindset throughout her journey and instead of saying "I can't do that," she learns to say "I can't do that YET!".

by Esther Pia Cordova, author
"The main characters — whether they're human, animal, a snowplow or a crayon — are almost always male."
Reviews
Rosie Malezer
Bob Richley
Steven Guglich
Dr. Henderson
I really loved the positive energy that this story seems to ooze in abundance. Most children have many self-doubts about what the future may bring, as well as doubting their own potential and talent. Esther Pia Cordova's tale of a young girl with little to no self-belief, yet who emerges with an abundance of confidence about where her future might take her is one which brought a smile to my face.
Rosie Malezer for Reader's Favorite
What potential do we hope our daughters reach? As a father of two daughters, I don't want my daughters potential limited by others or their own perceived limitations. I know my daughters are intelligent and gifted. I want them to discover their talents and become the best they can be.I Can't Do That, YET is a book that encourages girls to reach their potential. Enna is a girl, who says "I can't do that" when asked to read. She then has a dream in which she sees a potential self as someone who can solve a server issue. She then sees other potential future selves. When she wakes she changes her phrase to "I can't do that, YET."I recommend this book to any parent or caretaker of young girls. I appreciate books like this that teach valuable, important lessons to our kids.
Bob Richley for Teach Values, Read with Your Kids
Parents, have you ever asked your child to do something and they respond with the mantra, "I can't!"? Frustrating, right? Well, here's a way to introduce a new mantra to your child and help them live up to their potential. The concept behind this book is brilliant. It is a great way to introduce and teach children to have a growth mindset. I hope that "I Can't Do That, Yet!" is only the first book in a series to teach this valuable mindset to children.
Steven A. Guglich, father of four
The message in this book changes the mindset of young readers, while instilling motivation. This book instills confidence, inspiring children to believe they can do things they once thought they could not do.
Dr. Grace LaJoy Henderson
Order
Soon available on Amazon
Paperback
Ebook
Audiobook
Encourage growth mindset
Whimsical Illustrations
Female protagonist
For girls & boys
Encourage growth mindset
Whimsical Illustrations
Female protagonist
For girls & boys
Encourage growth mindset
Whimsical Illustrations
Female protagonist
For girls & boys
Ready for

a growth mindset?